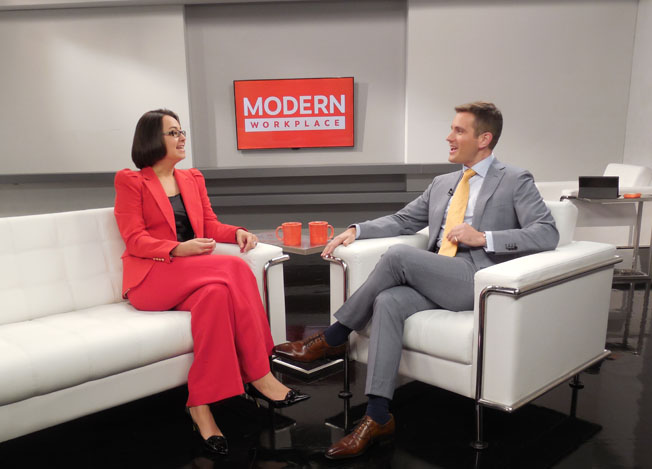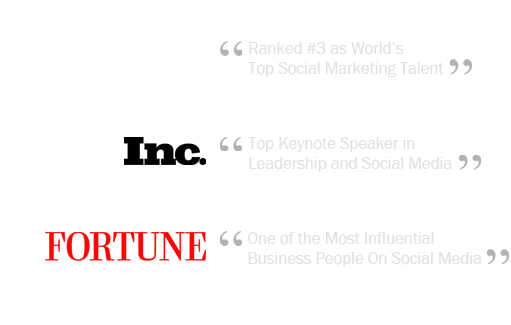 Passion fuels perseverance…… you need to consider the passions of your people.' And that's exactly what Ekaterina brought in her '5 P's' presentation. Her presentation was not only motivational but also valuable for any company's quest to have better interactions with their customers or to promote that inclusive thinking leads to better innovation. Excellent!
Neil Lenane
I could listen to @Ekaterina talk all afternoon! Exuberant and captivating! I cannot thank her enough for being on #cxotalk today!

— Tamera RousseauVesta (@tameraRV) May 24, 2013
Ekaterina is an exceptional speaker with a keen sense for what is real, relevant and resonant to a large conference audience. She does not disappoint.
Stewart Quealy
@Ekaterina thank you SO much! Your passion and advice today was greatly appreciated and much needed. Most energizing #cxotalk EVER 🙂

— Krista Kotrla (@KristaKotrla) May 24, 2013
@Ekaterina LOVE LOVE your book The Power of Visual Storytelling 😉 Pleasure to virtually meet ya

— A La Vista (@goalavista) November 18, 2014
"Success in life depends on three things: Passion, Purpose and Attitude". @Ekaterina I love your articles, you have truly inspired me!

— Petra Müller (@petruhmuller) January 7, 2014
Have you ever heard Ekaterina address an audience? If your answer is no, you're missing something special. Her passion shines through every syllable. Our audience at DEMO Brasil conference left with so many golden nuggets and ideas that they told us they couldn't wait to put them into practice in their businesses and lives. 'This keynote alone was worth the price of admission,' we heard others say. Great speaker! Fantastic topic!
Geraldo Santos
Learned more about marketing from @Ekaterina Walter in the last 20 mins than I maybe have... ever. Catch her on the #leweb live stream!

— Lora Schellenberg (@lschells7) December 10, 2014
Ekaterina is an absolute pleasure to work with. From the planning phase to the conference execution, she was continually engaged, responsive, and clearly focused on delivering true value – which she definitely did! We would not hesitate to work with her again at a future Brand ManageCamp conference – and neither should you.
Len Herstein
Ekaterina, I was at the ad:tech conference today. I have seen a lot of keynote speakers in my time, but not many that make you still think about their content post-presentation. I am still thinking about all the things you had to say. Thank you!
Pam O'Connor, attendee
Found @Ekaterina by accident & am saving you leg work by encouraging you to follow her if you want to distinguish your company & stand out

— Marty Morua (@MartyMorua) January 6, 2014
Ekaterina is intelligent, passionate about the subject matter, articulate, and insightful with practical 'how to advice.'
Harry Rollason
Ekaterina is consistently one of the best, most energetic, most knowledgeable and highest-ranking speakers we have had a privilege to work with. You'll be inspired.
Aaron Kahlow
Ekaterina has done 2 keynotes for us at Internet Hungary. She continues to be one of the best received speakers we've ever had. Not only was she passionate and engaging, she was also highly informative. The audience was raving about her talk – the reason we will invite her back again.
Akos Csermely
Ekaterina Walter has spoken at several Ragan Communications conferences. She is such a polished, engaging storyteller and it's always a pleasure to work with her!
Leslie Garrett
Ekaterina is among the very best instructors we have had in social media marketing.
Roy Young
@Ekaterina just finished Think Like Zuck. Inspirational. A great read!

— michaelkelly5 (@michaelkelly5) March 7, 2013
Ekaterina Walter's session on real-time marketing was notably my favorite of all [at FutureM and INBOUND 2014]! Not just because she was an amazing presenter, but also because of the truth behind her message.
Kristen Vaughn, one of 10,000 attendees
Book a Speaking Engagement
Ekaterina Walter has been at the forefront of the social business revolution. At Intel she led company-wide social media adoption, was a driver of change and spearheaded innovation as a co-founder and CMO of BRANDERATI, and now leads as the Head of Global Evangelism for Sprinklr.
Throughout her career she worked with global brands as well as advised a number of startups. Find out why over 100 organizations have booked Ekaterina, and make your event impactful today.