It is no secret that Facebook is one of the most attractive platforms for brands to have presence on. It has vast reach – out of 1.6 billion Internet users in the world, Facebook's users comprise a third of those. Over half of them log in daily and spend almost an hour on the site (Facebook).  According to TechCrunch, the site drives 44% of social sharing on the web. Last year Facebook became the most visited site in US bypassing Google (Hitwise).  According to Facebook, 70% of its users are international, which is highly attractive to the global brands. And if that wasn't enough, 65% of US Facebook users said they are more likely to buy a product based on a positive Facebook friend referral (eMarketer).
Once you are on Facebook though, the question becomes "How do I effectively engage my fans and sustain the meaningful dialogue that will help grow my fan base and help me build long-term relationships with my customers?" We all want a lot of fans, because that would mean that our customers love us and want to be a part of our community. But what we sometimes forget is that our fans will only want to engage with us if we serve up relevant content and truly participate. We also forget about EdgeRank – Facebook's  News Feed algorithm that helps display those "relevant" stories (what gets displayed to whom, if at all). NewsFeed only displays very small subset of stories generated by your friends or brands you Like. And very simply put, the more popular your story, they more likely it is to make it into people's News Feed. News Feed optimization becomes as important as your content strategy.
To sum up… The more relevant your content is, the more engaged your fans will be with it. The more participation you receive on your page (comments, likes, etc), they higher your page will rank, which in turn will lead to a higher organic fan grow of your page.
And now let's explore ways we can create News Feed optimized updates. Below are some dos and don'ts to remember that might help you create a meaningful and engaging presence through the right types of posts.
1. Don't automate your status updates.
And please don't share exact same content across all networks (Facebook, Twitter, YouTube) in exactly the same format. We all understand the value of saving time. But please respect your customers enough to post manually with the customized copy – you will get far better engagement and show your fans you care. Another thing to remember is that some folks who use Facebook don't really like Twitter and get irritated when they see hashtags or other Twitter-specific content in their Facebook stream.
2. Don't be afraid to show you are human.
Thank your fans for their replies and for sharing their opinions with you. From time to time talk about things other than your products. Wish them happy holidays. Ask them fun questions or to share their personal stories.
And remember, if you made a mistake – admit it. Everyone knows you are human, no one expects you to be perfect. You will actually score points for admitting that vs. trying to hide it.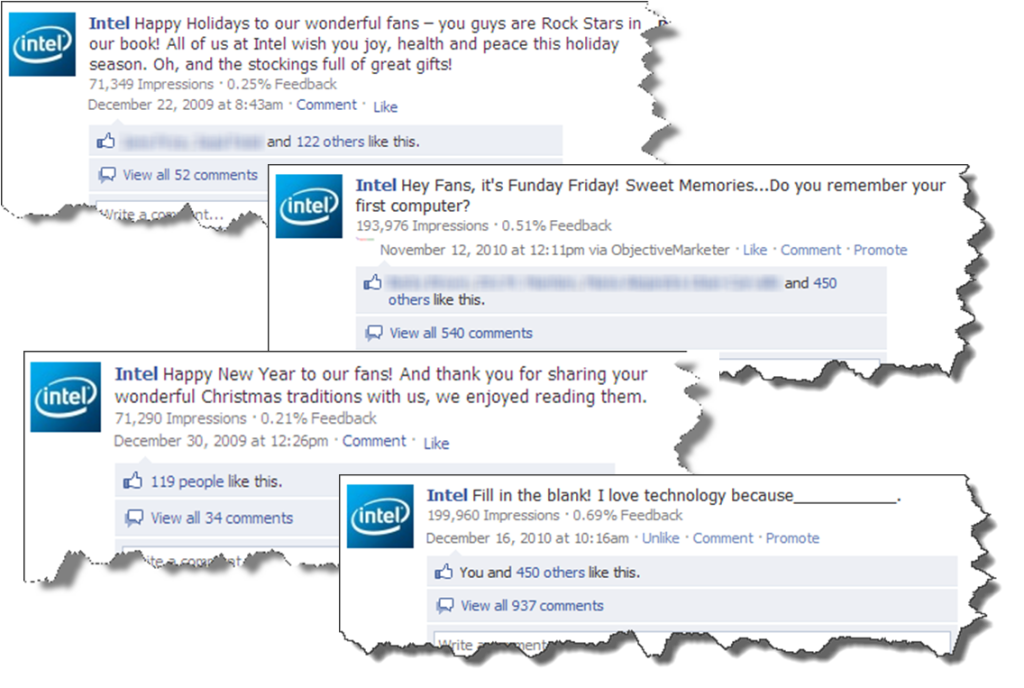 Don't be afraid of negative comments or people posting on sensitive topics – what you will find is that most of the time your fans jump in and defend you or address these comments for you. And that carries much more weight that you trying to chime in yourself. And at the end of the day this is your opportunity to turn haters into loyalists by providing timely response and great customer service.
3.  Do post more videos.
Media like videos and photos always do great. Not only they seem to be algorithm's 'favorite', they are also a preferred medium by folks everywhere. A lot of people nowadays choose to watch more than they read.
Facebook also offers you a nice little feature that helps bring more fans into your page. if you post a video and while it is shared around a non-fan of your page sees it, the little non intrusive call to action will pop up in the left upper corner that would invite them to Like your page.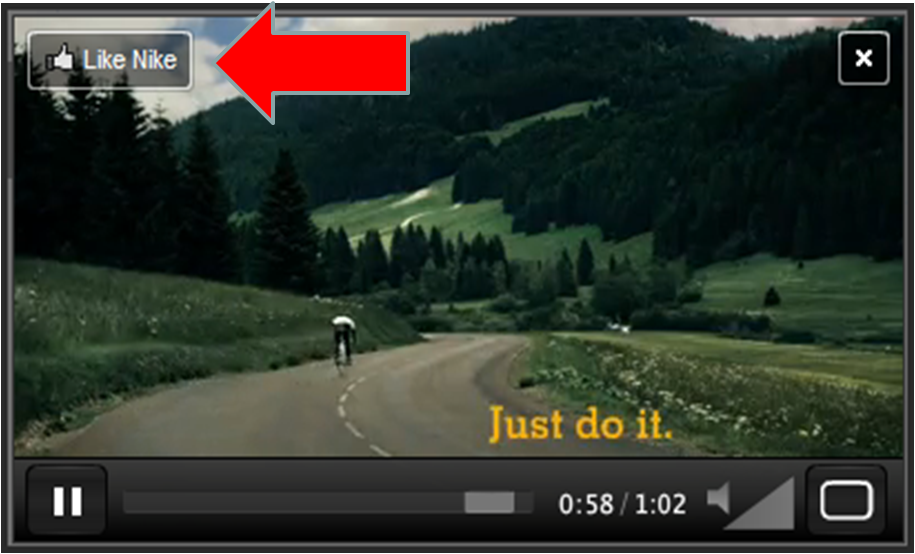 4.  Do put your fans in charge every now and then.
Not afraid to crowdsource? Your Facebook page is a perfect place for it. Not only your fans will feel valued and heard, but some of their decisions might help your content strategy in the long run. Because let's face it, sometimes we are don't make the best choices in marketing that don't really resonate with our customers.
My favorite example of this was done by Budweiser. They let their fans choose the commercial that would run during the Big Game in 2010. The vote was almost unanimous.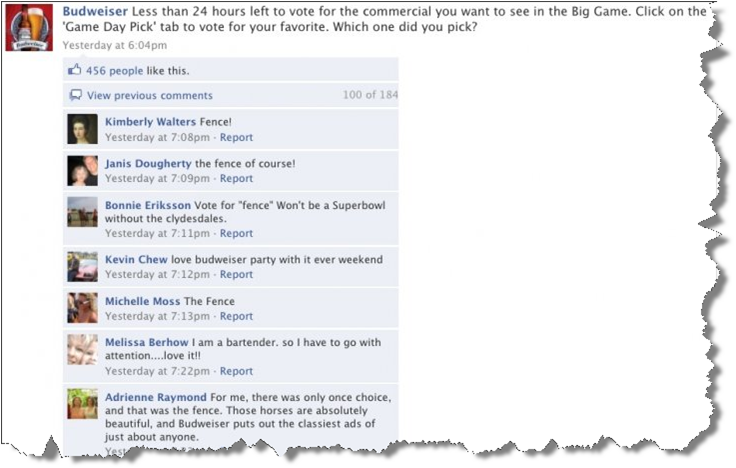 5. Do target your status updates.
If you are a global brand, make a good use of the targeting feature. We sometimes forget that not all of our fans would want to know about campaign or contest we are running in a specific region or country. Target your updates by country or language as necessary (in US you can
even target by state and city). Your fans might get upset if they can't participate in a specific program if it is only limited to one country. So be cognizant of that fact.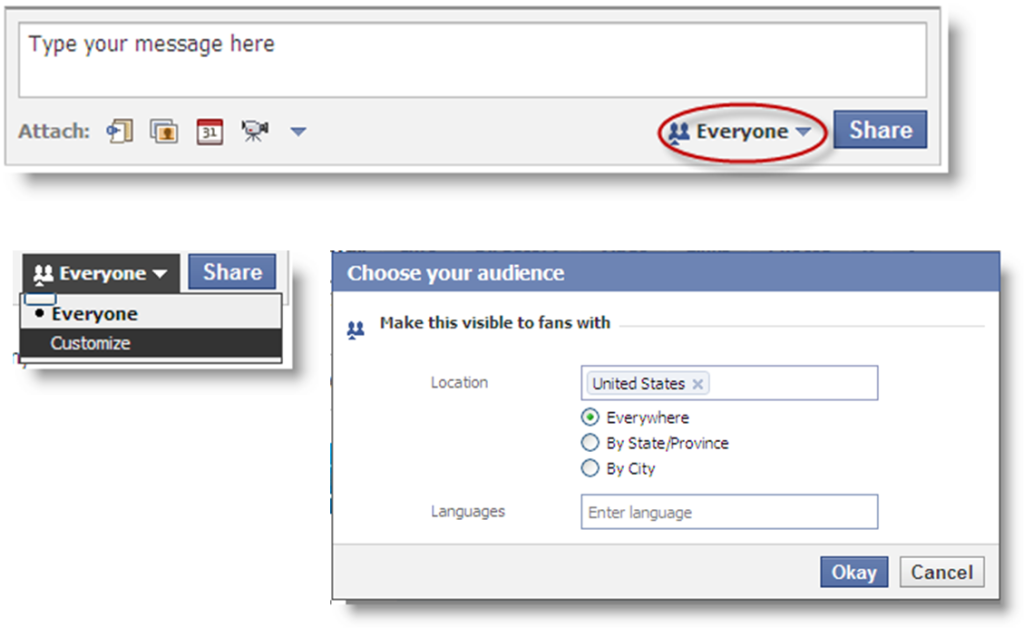 6.  Do ask questions or involve your fans in other ways.
Want your fans to express their view on the topic? Ask them. Want your fans to share their favorite content with you? Ask them. Want your fans to share your content? Ask them. You get the point. If you want your fans to participate more, just ask them every now and then, you will surprised how many of them will respond. Multiple experiments by other brands and yours truly show that the post where you include a call to action get more than average engagement.
7.  Do watch your post frequency and timing.
Don't overwhelm your fans with too many posts. I suggest posting once a day to start with and potentially moving to twice a day, especially if you have great news to share. As far as timing of the day goes, there are many studies that were done by multiple organizations that show which time of the day is best. It makes sense that at the end of the day and during weekends people catch up on their Facebook activity. However, it is unique to every individual page. Be patient, watch the response trends on your page, identify the frequency and best time of the day to post that works for you.
8.   Do know your unique voice.
It is important to know your voice. Skittle does a good job maintaining consistent brand voice on their Facebook page – it is entertaining, it is funny and refreshing.
That is not to say that you don't want to experiment and step outside the  comfort zone to see what else might work for you, but don't go too far.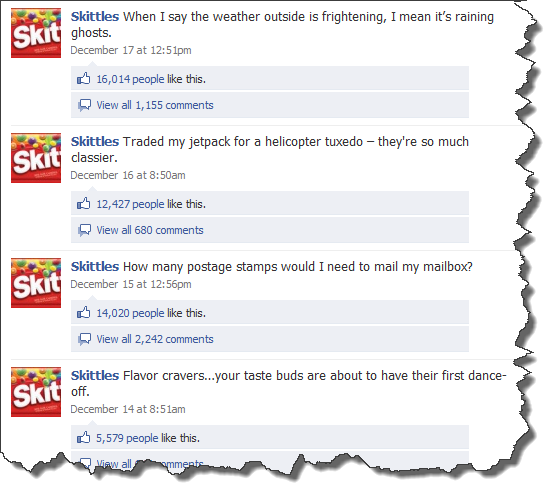 9. Do diversify your content.
Change up your content every now and then. A lot of times people are confused on what to post. Below are some of the ideas for you:  tips;
how-to tutorials; blog posts; fun facts and trivia about your company/industry/relevant topics; breaking news/announcements; polls; questions; fill in the blank; relevant 3rd party content; exclusive offers; videos and photos where possible; bring in experts for weekly wall post chats.
10.  Do track the performance of your posts.
Do know your average number of comments and likes per post and some other key engagement data. Watch for trends on your page and feedback from your consumers on topics/programs/discussions and adjust your content strategy appropriately. Don't get complacent.
If you want to know more about Facebook metrics, read my other Mashable post  Beginner's Guide to Facebook Insights.
Originally published in Mashable