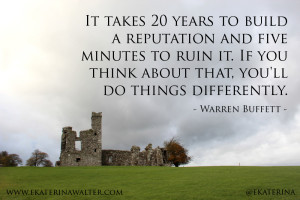 "Your reputation precedes you" is a phrase that is usually followed by opportunities, investments, and partnerships.
That is because your reputation is the only thing you have when it comes to success. People will work with you, buy from you, and invest in you based on your reputation. And reputation is shaped by your character and your actions. Everything you do or say in life, regardless of your occupation or goals, directly contributes to people's perception of you: who you are as a person and as a leader.
"If I take care of my character, my reputation will take care of me." – Dwight L. Moody
Integrity is critical to your career. When times get tough, it's your actions towards others and your actions in addressing challenges that shape your reputation. And that is driven largely by clear understanding of who you are, your values, your purpose. Are you taking an easy way out? Are you delivering on your promises? Are you assigning blame or owning up to your mistakes? Etc.
People with strong reputation are consistent. They lead by example, they pave the way, and they don't compromise what's important. Continue Reading »
Tags: business, character, ragy thomas, reputation, sprinklr